PR2 Taking a Tour of India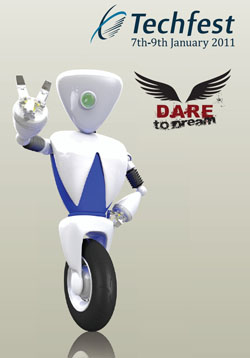 The PR2 robot is going on a trip to India making stops in Mumbai and Kanpur.  The PR2's first stop will be at the IIT Bombay Techfest, Asia's largest student organized science and technology festival. Techfest is expected to attract almost 20000 visitors this year. It is organized annually by IIT Bombay, one of the leading science and technology institutions in India. The PR2 is part of the "Rebooting Tomorrow" exhibition at Techfest, which showcases cutting edge technology from around the world. Look for us and the PR2 at Techfest from January 7th-9th, 2011.  The PR2 will be in the Main Building Foyer (MB Foyer) from 9:30 AM to 4:00 PM on all three days. See the Techfest schedule for a map of the venue and more details.
The PR2 will also be making a stop at Techkriti, IIT Kanpur's technology and science festival between February 17-20, 2011. More details on the PR2's trip to Kanpur will be posted soon on our blog.
The PR2's trip to the two IITs has been  made possible by a generous sponsorship from the TATA group. We thank them for this opportunity to demonstrate the PR2 in India.